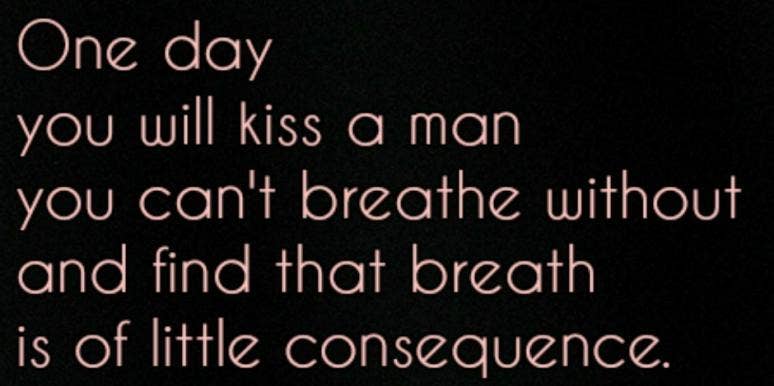 "There will come a time when all of us are dead. All of us. There will come a time when there are no human beings remaining to remember that anyone ever existed or that our species ever did anything. There will be no one left to remember Aristotle or Cleopatra, let alone you. Everything that we did and built and wrote and thought and discovered will be forgotten and all of this will have been for naught. Maybe that time is coming soon and maybe it is millions of years away, but even if we survive the collapse of our sun, we will not survive forever. There was time before organisms experienced consciousness, and there will be time after. And if the inevitability of human oblivion worries you, I encourage you to ignore it. God knows that's what everyone else does."
―
John Green
"It hurts to let go. Sometimes it seems the harder you try to hold on to something or someone the more it wants to get away. You feel like some kind of criminal for having felt, for having wanted. For having wanted to be wanted. It confuses you, because you think that your feelings were wrong and it makes you feel so small because it's so hard to keep it inside when you let it out and it doesn't coma back. You're left so alone that you can't explain. Damn, there's nothing like that, is there? I've been there and you have too. You're nodding your head."
―
Henry Rollins
"If you love somebody, let them go, for if they return, they were always yours. If they don't, they never were."
―
Kahlil Gibran
"Life's under no obligation to give us what we expect."
―
Margaret Mitchell
"Sometimes our light goes out, but is blown again into instant flame by an encounter with another human being."
―
Albert Schweitzer
"How many slams in an old screen door? Depends how loud you shut it. How many slices in a bread? Depends how thin you cut it. How much good inside a day? Depends how good you live 'em. How much love inside a friend? Depends how much you give 'em."
―
Shel Silverstein
"Unbeing dead isn't being alive."
―
E. E. Cummings
"Some people have lives; some people have music."
―
John Green
"Nobody likes being alone that much. I don't go out of my way to make friends, that's all. It just leads to disappointment. "
―
Haruki Murakami
"Simplicity, patience, compassion.
These three are your greatest treasures.
Simple in actions and thoughts, you return to the source of being.
Patient with both friends and enemies,
you accord with the way things are.
Compassionate toward yourself,
you reconcile all beings in the world."
―
Lao Tzu,
Tao Te Ching
"Tell the truth, or someone will tell it for you."
―
Stephanie Klein
"The truth is, unless you let go, unless you forgive yourself, unless you forgive the situation, unless you realize that the situation is over, you cannot move forward."
―
Steve Maraboli
"Life should not be a journey to the grave with the intention of arriving safely in a pretty and well preserved body, but rather to skid in broadside in a cloud of smoke, thoroughly used up, totally worn out, and loudly proclaiming "Wow! What a Ride!"
―
Hunter S. Thompson
"People aren't born good or bad. Maybe they're born with tendencies either way, but its the way you live your life that matters."
―
Cassandra Clare
"Life is for the living.
Death is for the dead.
Let life be like music.
And death a note unsaid."
―
Langston Hughes
"If cats looked like frogs we'd realize what nasty, cruel little bastards they are. Style. That's what people remember."
―
Terry Pratchett
"The things you do for yourself are gone when you are gone, but the things you do for others remain as your legacy."
―
Kalu Ndukwe Kalu
"Albus Severus," Harry said quietly, so that nobody but Ginny could hear, and she was tactful enough to pretend to be waving to Rose, who was now on the train, "you were named for two headmasters of Hogwarts. One of them was a Slytherin and he was probably the bravest man I ever knew."
―
J.K. Rowling
"Dare to Be
When a new day begins, dare to smile gratefully.
When there is darkness, dare to be the first to shine a light.
When there is injustice, dare to be the first to condemn it.
When something seems difficult, dare to do it anyway.
When life seems to beat you down, dare to fight back.
When there seems to be no hope, dare to find some.
When you're feeling tired, dare to keep going.
When times are tough, dare to be tougher.
When love hurts you, dare to love again.
When someone is hurting, dare to help them heal.
When another is lost, dare to help them find the way.
When a friend falls, dare to be the first to extend a hand.
When you cross paths with another, dare to make them smile.
When you feel great, dare to help someone else feel great too.
When the day has ended, dare to feel as you've done your best.
Dare to be the best you can –
At all times, Dare to be!"
―
Steve Maraboli
"A woman has to live her life, or live to repent not having lived it."
―
D.H. Lawrence
"The more I see, the less I know for sure."
―
John Lennon
"The most wasted of all days is one without laughter."
―
Nicolas Chamfort
"The true soldier fights not because he hates what is in front of him, but because he loves what is behind him."
―
G.K. Chesterton
"If you want to forget something or someone, never hate it, or never hate him/her. Everything and everyone that you hate is engraved upon your heart; if you want to let go of something, if you want to forget, you cannot hate."
―
C. JoyBell C.
"Life is to be enjoyed, not endured"
―
Gordon B. Hinckley
"Do I not destroy my enemies when I make them my friends?"
―
Abraham Lincoln
"If I can stop one heart from breaking, I shall not live in vain."
―
Emily Dickinson
"Why didn't I learn to treat everything like it was the last time. My greatest regret was how much I believed in the future."
―
Jonathan Safran Foer
"Attitude is a choice. Happiness is a choice. Optimism is a choice. Kindness is a choice. Giving is a choice. Respect is a choice. Whatever choice you make makes you. Choose wisely."
―
Roy T. Bennett
"Don't say you don't have enough time. You have exactly the same number of hours per day that were given to Helen Keller, Pasteur, Michelangelo, Mother Teresa, Leonardo da Vinci, Thomas Jefferson, and Albert Einstein."
―
H. Jackson Brown Jr.
"I go to seek a Great Perhaps."
―
François Rabelais
"I DON'T CARE!" Harry yelled at them, snatching up a lunascope and throwing it into the fireplace. "I'VE HAD ENOUGH, I'VE SEEN ENOUGH, I WANT OUT, I WANT IT TO END, I DON'T CARE ANYMORE!"
"You do care," said Dumbledore. He had not flinched or made a single move to stop Harry demolishing his office. His expression was calm, almost detached. "You care so much you feel as though you will bleed to death with the pain of it."
―
J.K. Rowling
"We have to dare to be ourselves, however frightening or strange that self may prove to be."
―
May Sarton
"Anyone who lives within their means suffers from a lack of imagination."
―
Oscar Wilde
"If my life is going to mean anything, I have to live it myself."
―
Rick Riordan
"When I was 5 years old, my mother always told me that happiness was the key to life. When I went to school, they asked me what I wanted to be when I grew up. I wrote down 'happy'. They told me I didn't understand the assignment, and I told them they didn't understand life."
―
John Lennon
"Life is a book and there are a thousand pages I have not yet read."
―
Cassandra Clare
"Of all sad words of tongue or pen, the saddest are these, 'It might have been."
―
John Greenleaf Whittier
"A life spent making mistakes is not only more honorable, but more useful than a life spent doing nothing."
―
George Bernard Shaw
"If you're reading this...
Congratulations, you're alive.
If that's not something to smile about,
then I don't know what is."
―
Chad Sugg,
Monsters Under Your Head
"Do not let your fire go out, spark by irreplaceable spark in the hopeless swamps of the not-quite, the not-yet, and the not-at-all. Do not let the hero in your soul perish in lonely frustration for the life you deserved and have never been able to reach. The world you desire can be won. It exists.. it is real.. it is possible.. it's yours."
―
Ayn Rand,
Atlas Shrugged
"The flower that blooms in adversity is the rarest and most beautiful of all."
―
Walt Disney Company
"Monsters are real, and ghosts are real too. They live inside us, and sometimes, they win."
―
Stephen King
"Life can only be understood backwards; but it must be lived forwards."
―
Søren Kierkegaard
"The best index to a person's character is how he treats people who can't do him any good, and how he treats people who can't fight back."
―
Abigail Van Buren
"The most important thing is to enjoy your life—to be happy—it's all that matters."
―
Audrey Hepburn
"People aren't either wicked or noble. They're like chef's salads, with good things and bad things chopped and mixed together in a vinaigrette of confusion and conflict."
―
Lemony Snicket
"Do not go where the path may lead, go instead where there is no path and leave a trail."
―
Ralph Waldo Emerson
"My experience of life is that it is not divided up into genres; it's a horrifying, romantic, tragic, comical, science-fiction cowboy detective novel. You know, with a bit of pornography if you're lucky."
―
Alan Moore
"I love to see a young girl go out and grab the world by the lapels. Life's a bitch. You've got to go out and kick ass."
―
maya angelou
"I don't know the question, but sex is definitely the answer."
―
Woody Allen
"Two possibilities exist: either we are alone in the Universe or we are not. Both are equally terrifying."
―
Arthur C. Clarke
"Religion has actually convinced people that there's an invisible man living in the sky who watches everything you do, every minute of every day. And the invisible man has a special list of ten things he does not want you to do. And if you do any of these ten things, he has a special place, full of fire and smoke and burning and torture and anguish, where he will send you to live and suffer and burn and choke and scream and cry forever and ever 'til the end of time!
But He loves you. He loves you, and He needs money! He always needs money! He's all-powerful, all-perfect, all-knowing, and all-wise, somehow just can't handle money!"
―
George Carlin
"Remember: the time you feel lonely is the time you most need to be by yourself. Life's cruelest irony."
―
Douglas Coupland
"Nobody realizes that some people expend tremendous energy merely to be normal."
―
Albert Camus
"People are afraid of themselves, of their own reality; their feelings most of all. People talk about how great love is, but that's bullshit. Love hurts. Feelings are disturbing. People are taught that pain is evil and dangerous. How can they deal with love if they're afraid to feel? Pain is meant to wake us up. People try to hide their pain. But they're wrong. Pain is something to carry, like a radio. You feel your strength in the experience of pain. It's all in how you carry it. That's what matters. Pain is a feeling. Your feelings are a part of you. Your own reality. If you feel ashamed of them, and hide them, you're letting society destroy your reality. You should stand up for your right to feel your pain."
―
Jim Morrison
"Life is pain, highness. Anyone who says differently is selling something."
―
William Goldman
"It is said that your life flashes before your eyes just before you die. That is true, it's called Life."
―
Terry Pratchett
"It may be unfair, but what happens in a few days, sometimes even a single day, can change the course of a whole lifetime..."
―
Khaled Hosseini
"It isn't what you have or who you are or where you are or what you are doing that makes you happy or unhappy. It is what you think about it."
―
Dale Carnegie